Can you see the avalanche?
Our ladies do
any time, any weather!
...day and night 24/7...
All in one online platform:
WAC.3®

In the 2020/21 winter season, a total of 2220 avalanches were detected by Wyssen detection systems worldwide.
Temporary protective measures against avalanches have grown enormously in importance over the past few years. Compared to permanent constructional mitigation measures, today controlled-release of avalanches in small portions from the avalanche fracture zones are being introduced increasingly. Modern remote-controlled blasting installations allow triggering even during snowfall or in the night if necessary. Naturally, with this benefit, the requirements for detection systems that are independent of visibility for verification of successful blasting are also increasing. Furthermore, when avalanches are registered, alarms can be set off and transport routes blocked with traffic lights as well as general information collected about avalanche activity, which could give important indications for avalanche warning.Thanks to technological advances in recent years, reliable and low-maintenance systems for monitoring and alarming are available.
We offer different avalanche detection systems:
The data are visualized, documented and archived on the web-based platform WAC.3® and gives the avalanche commission a simplified overview as a basis for decision-making.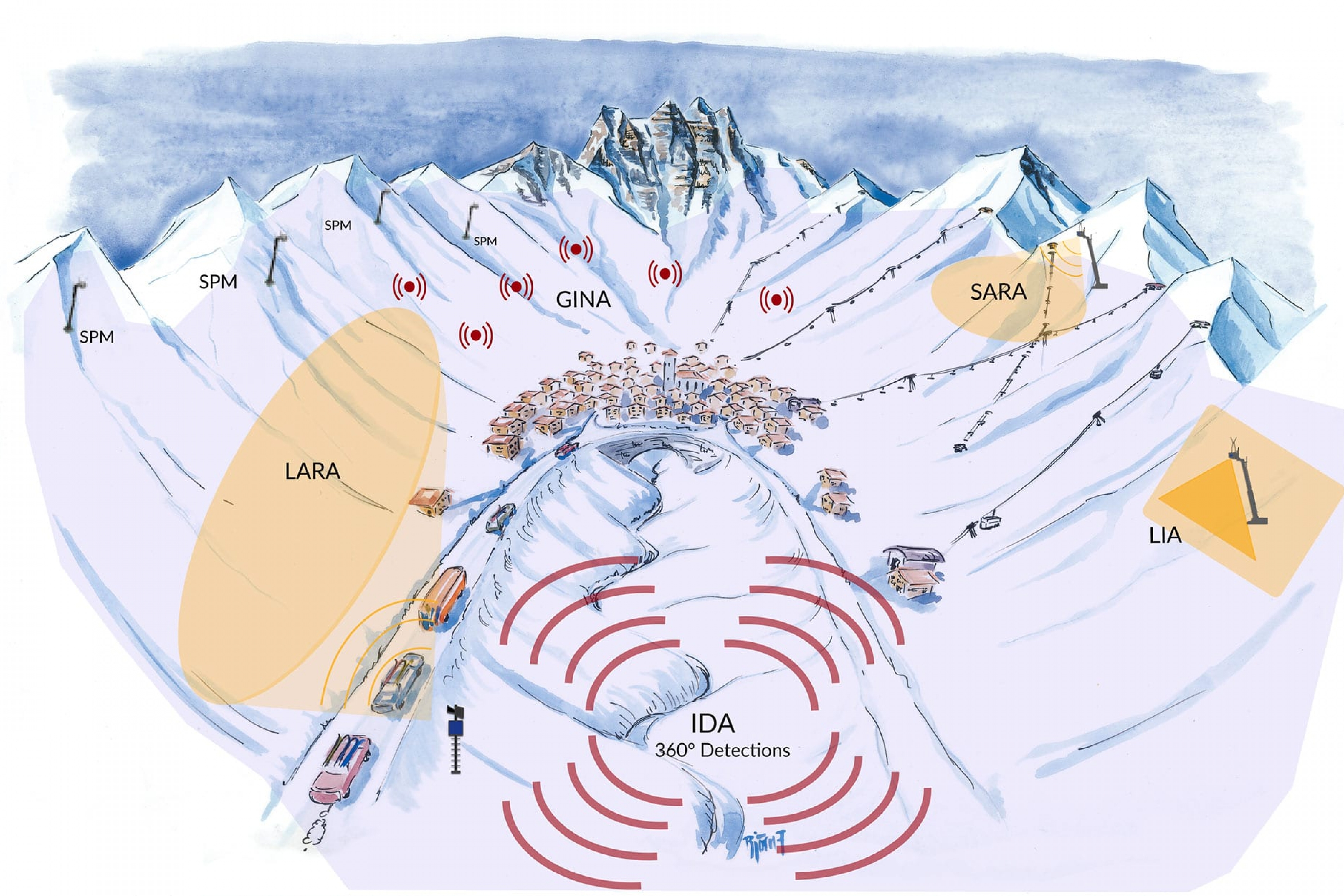 3D Laser measurement of changes in the snow accumulations in the avalanche release area
Systems for pure verification directly close to the blasting installation
 Enables the monitoring of avalanche activities in specific avalanche paths
Systems for specific and exact monitoring of individual avalanche paths
Large area monitoring for the verification of the avalanche forecast and avalanche control as well as an early warning index when the general avalanche activity is rising
To monitor endangered areas in order to make sure no people are exposed to controlled released avalanches if visibility is poor
| Category | Preventive Avalanche triggering | Alarm systems | Avalanche warning |
| --- | --- | --- | --- |
| Detection system | Verification of the releasing result | Closing traffic lines in case of an event | Verification of the avalanche forecast |
| LIA® Laser Impulse Snow Height Acquisition | very good | n.a. | possible |
| GINA® Geophones in Avalanches | good | very good | possible |
| IDA® Infrasound Detection of Avalanches | depends on distance | n.a. | very good |
| SARA® Short Range Avalanche Radar | very good | n.a. | possible |
| LARA® Long Range Avalanche Radar | good | very good | possible |
| Mechanical Systems: Rip cord, rope with pendulums | | very good | |