Kan du se snøskredet?
Våre damer gjør
når som helst, i alt vær!
...Dag og natt 24/7...
Alt i en online platform:
WAC.3®
Temporary protective measures against avalanches have grown enormously in importance over the past few years. Compared to permanent constructional mitigation measures, today controlled-release of avalanches in small portions from the avalanche fracture zones are being introduced increasingly. Modern remote-controlled blasting installations allow triggering even during snowfall or in the night if necessary. Naturally, with this benefit, the requirements for detection systems that are independent of visibility for verification of successful blasting are also increasing. Furthermore, when avalanches are registered, alarms can be set off and transport routes blocked with traffic lights as well as general information collected about avalanche activity, which could give important indications for avalanche warning.Thanks to technological advances in recent years, reliable and low-maintenance systems for monitoring and alarming are available.
We offer different avalanche detection systems:
The data are visualized, documented and archived on the web-based platform WAC.3® and gives the avalanche commission a simplified overview as a basis for decision-making.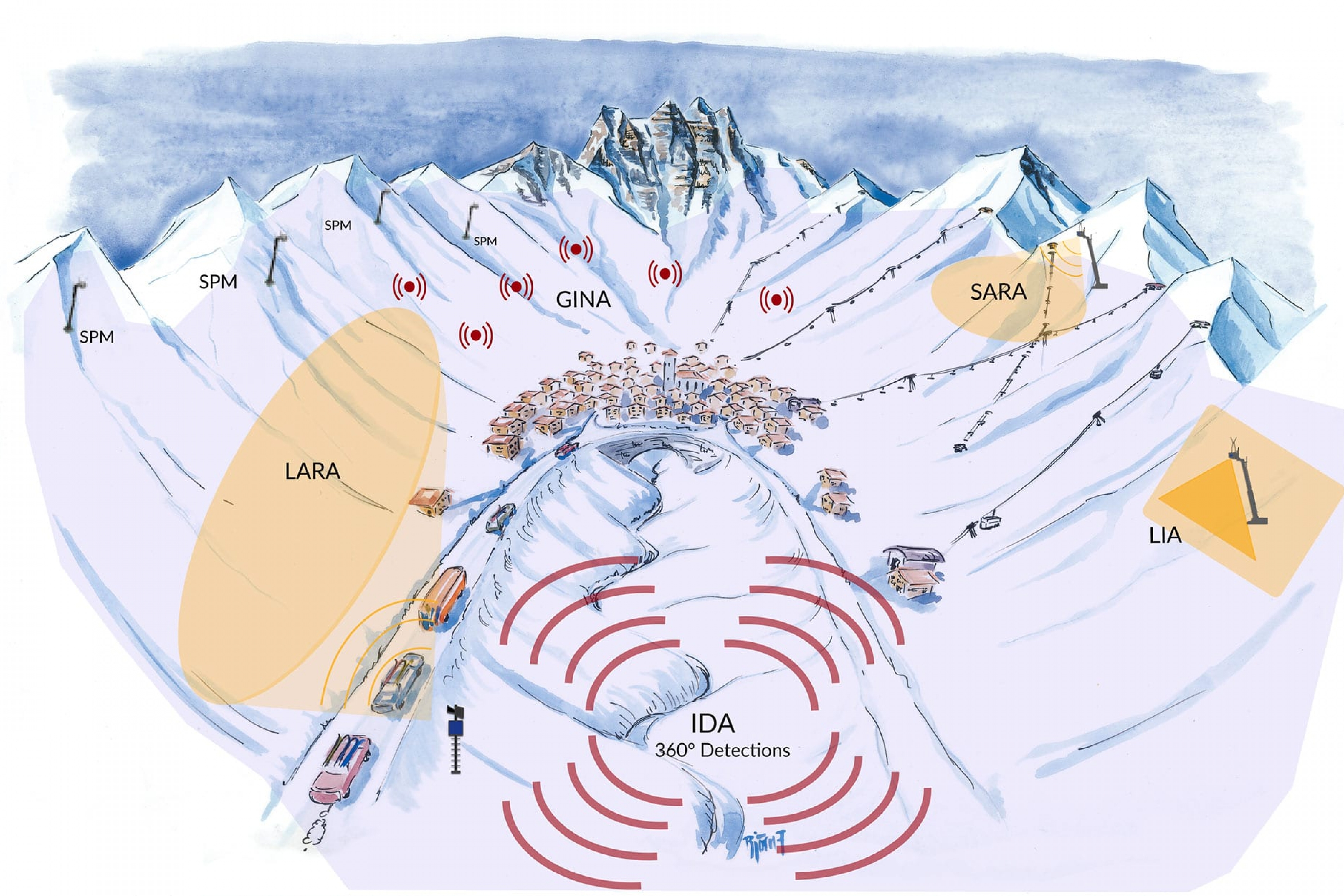 3D Laser measurement of changes in the snow accumulations in the avalanche release area
Radar som overvåker skredbanen under et snøskredtårn. Brukes til verifisiering av skred i forbindelse med snøskredkontroll.
 Enables the monitoring of avalanche activities in specific avalanche paths
Pålitelig og nøyaktig overvåkning av naturlig- eller kontrollert utløste snøskred fra enkeltstående eller flere skredbaner ved siden av hverandre. Med alarmfunksjoner.
Overvåkning av store områder for verifisering av naturlige skred og kontrollert utløste skred samt tidlig varsling ved økende skredaktivitet.
For å sikre at det ikke befinner seg personer i fareområdet ved fjernstyrt snøskredkontroll om natten eller når det er dårlig sikt.
| KATEGORI | KONTROLLERT SKREDUTLØSNING | ALARM- OG LYSANLEGG | SKREDVARSEL |
| --- | --- | --- | --- |
| Detekteringssystem | Verifisering av sprengningsresultat | Stenging av veien ved hendelse | Verifisering Skredprognose (og forvarsel) |
| LIA® Laser Impulse Snow Height Acquisition | svært bra | I.R. | mulig |
| GINA® Geofon | bra | svært bra | mulig |
| IDA® detektering med infralyd | avhengig av avstand | I.R. | svært bra |
| SARA® kortrekkende skredradar | svært bra | I.R. | mulig |
| LARA® langtrekkende skredradar | bra | svært bra | mulig |
| Mekaniske systemer: utløsersnorer, tau med pendel | | svært bra | |