GINA® Geophones in Avalanches
GINA® enables the monitoring of avalanche activity in specific avalanche paths. The system represents a cost-efficient way of monitoring individual areas and is fully integrated in the Wyssen Avalanche Control Center WAC.3®.
avalanches were detected worldwide by GINA® in the winter season 2020/21
GINA® records the ground vibrations caused by avalanches and enables the detection of both natural and preventive avalanches (see figure below).
GINA® consists of a control unit and a geophone sensor. The control unit is responsible for data transmission via mobile radio and for communication with other devices, for example with any connected avalanche traffic lights, while the sensor continuously records and evaluates ground vibrations. The battery supplying the power is charged via a solar panel.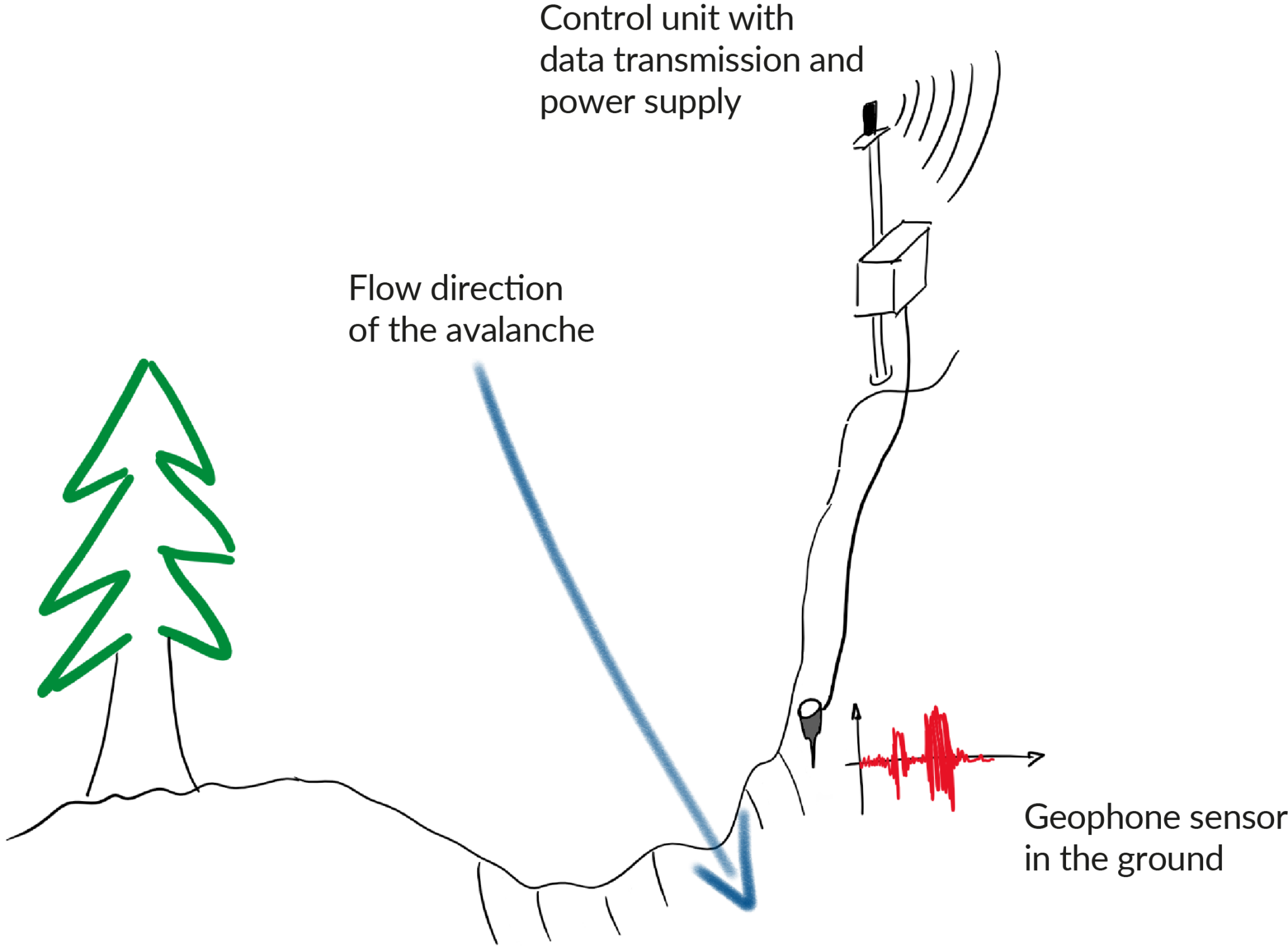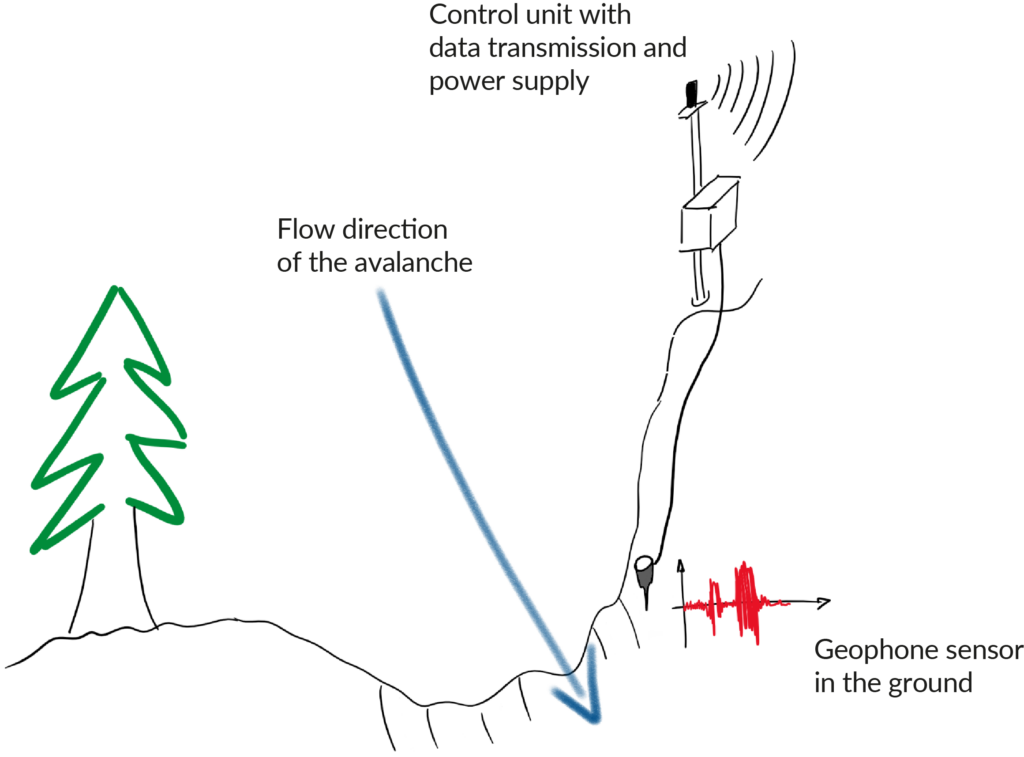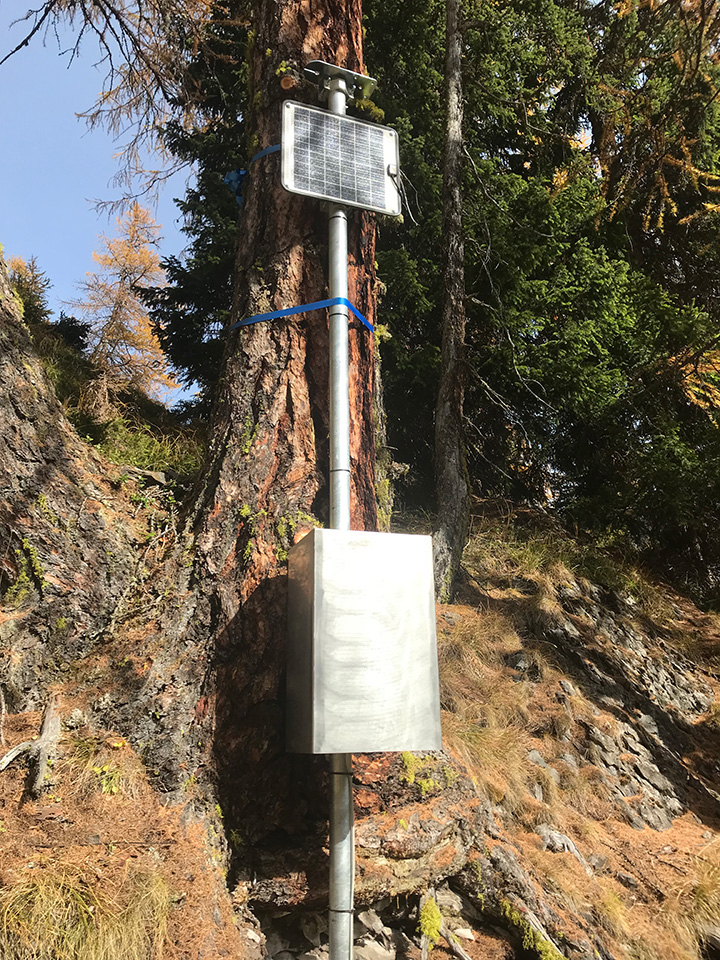 | GINA® Specifications | Description |
| --- | --- |
| Measurement of | ground vibrations from avalanches, debris flows or similar gravitational natural hazards |
| Resolution & Frequency | 24 bit / 80Hz |
| Opening angle | 360° |
| Installation | of the sensor elements: in the ground near the avalanche descent path of the control unit and power supply: outside the avalanche descent path on a tree or in combination with a cross-bracing or screw-in foundation |
| Communication | Mobile phone network |
| Power supply | Solar |
| Number of sensors | connection of several redundant sensors to the control unit and power supply is possible |
| Display | fully integrated with the Wyssen Avalanche Control Center WAC.3® |
The elementary STA/LTA trigger for an event is defined as a ratio between the short-term average (STA) value and the longterm average (LTA) value. This creates a threshold that enables the detection of events of all magnitudes while simultaneously remaining immune to gradual changes in ambient ground noise. When the trigger is activated, the system switches from energy-saving mode to full operational capability. The sensor itself does not differentiate whether the event is an avalanche, a debris flow or a rockfall during the measurements.
All data during the event is recorded, transferred and evaluated in the scope of data processing on Wyssen's servers. A central algorithm then determines whether the recorded event is an avalanche or another type of vibration that activated the trigger. Finally, all detections relevant for the user are displayed on the Wyssen Avalanche Control Center WAC.3®. Users can configure alerts of relevant events via SMS or email.