Gliding Snow – Survey of Practitioners & New Technologies for Controlled Release
Even small gliding snow avalanches can pose major challenges for roads, ski resorts and buildings. Wyssen Avalanche Control, the company Schöllkopf AG and the FH Graubünden IBAR are currently conducting tests for the controlled release of gliding snow. The goal of these tests is to investigate geotextiles that reduce the roughness of slopes – allowing snow to slide early and relieve stresses in the snowpack before gliding snow avalanches form.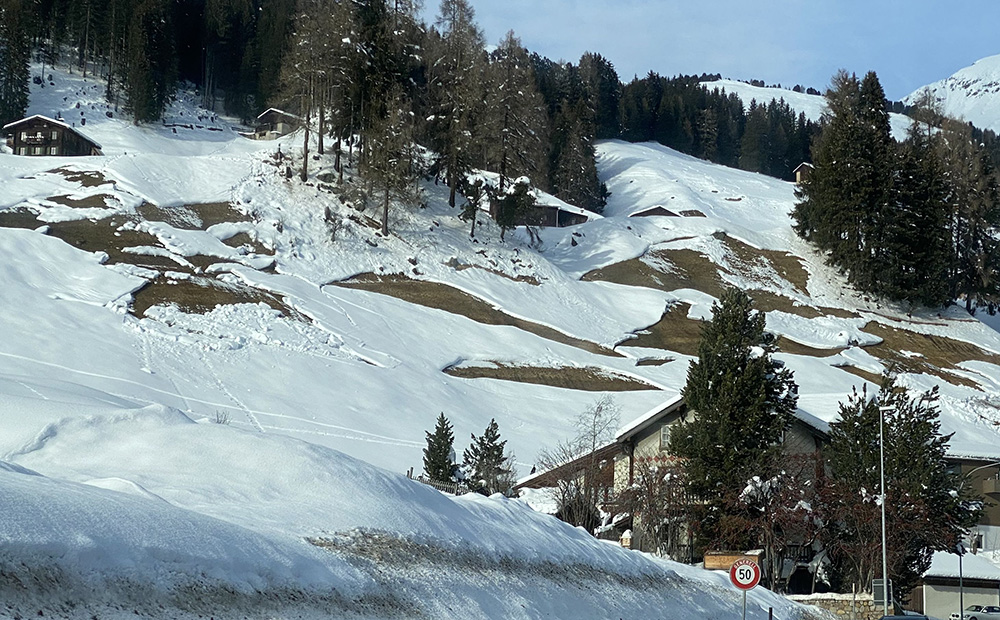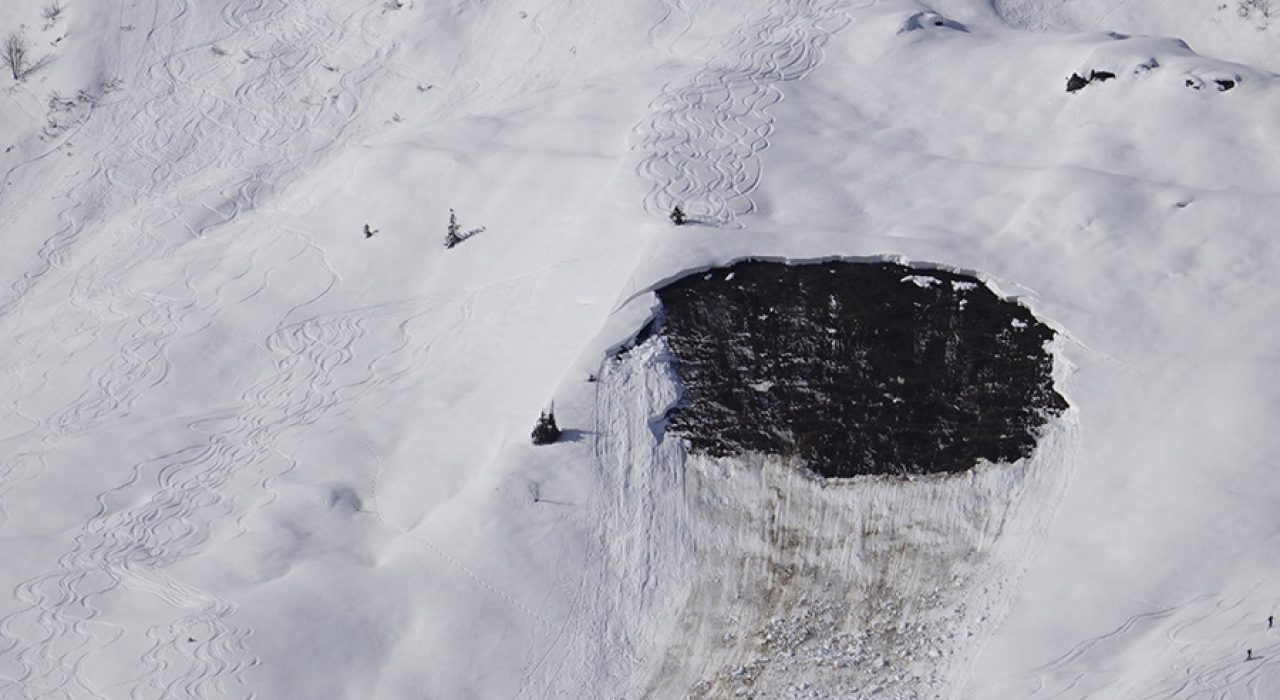 Gliding snow avalanches are not an unknown type of avalanche in the Alps. However, an increase in the spatial distribution of the phenomenon can be observed (primarily on south-facing slopes, with an upward trend in all exposures) and, in particular, an increasing number of avalanches can be observed at higher altitudes, with avalanches sometimes occurring above 2000 m above sea level. In terms of areal extent, even small slopes of a few 100 m2 above roads or entire mountain flanks can cause significant problems. Often at risk are ski slopes, roads or buildings. This can lead to longer closure times or general closures and thus cause considerable economic damage. Temporally, gliding snow avalanches can be observed throughout the winter under appropriate conditions and can be problematic for managers. In particular, the occurrence of gliding snow over long periods of time (several weeks or months) presents challenges to practitioners. Since it is still not possible today to reliably predict sliding snow, a better understanding of the process remains an active part of research. Accordingly, there is as yet no reliable way to trigger these avalanches in a controlled manner, and few economically favorable permanent solutions to prevent their occurrence.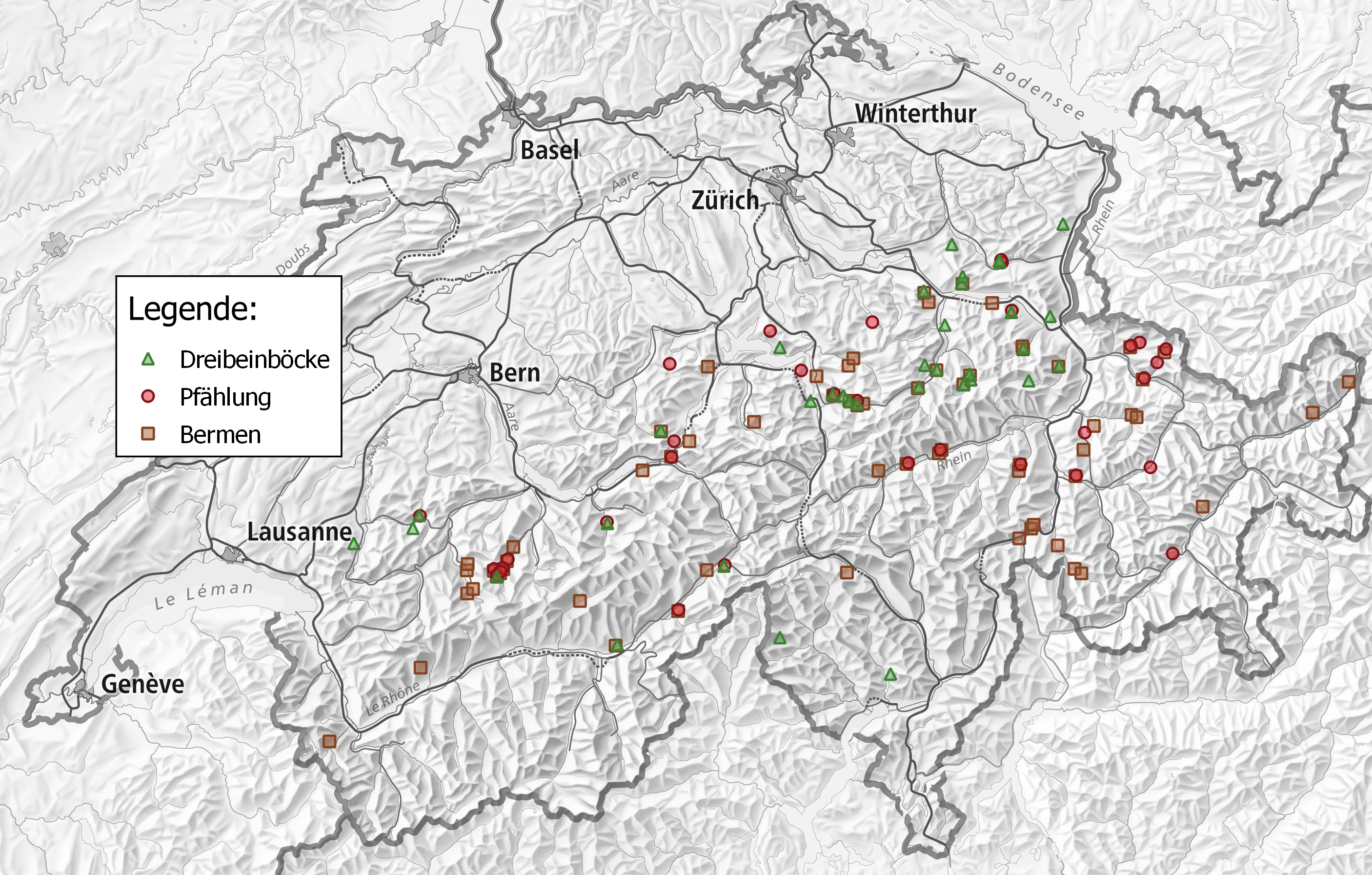 Even on small areas, the intervention to prevent sliding snow is relatively large. Proven measures such as tripod trestles, pilings, or berms provide good protection against slippage, but present a year-round visual impact on the landscape and make it difficult to farm the land in the summer. Measures against gliding snow are used throughout Switzerland and the Alps – however, a detailed and up-to-date overview is not available.Figure: Overview according to Leuenberger (2003) with exemplary application areas of different measures: Wooden tripods (green triangles): 35x; impalement (red circles): 32x; and berms (brown squares): 64x.
We have set up a test site in Davos Frauenkirch to investigate the different geotextiles. To complement the slides, a weather station, webcam and other sensors are set up to record environmental conditions during events. In addition to the tests with the geotextiles, the aim is also to increase the process understanding of when slippage occurs. Initial tests have already been conducted in winter 2021/22 (see video at the very top), with further tests planned for winter 2022/23.
We ask practitioners to share their gliding snow experiences with us. Our goal in this project is to generate an up-to-date overview of the dimensions of the gliding snow problem.
How regular are gliding snow avalanches in your area?
How large are the areas and what infrastructure is affected?
What (structural or organizational) measures are currently in use in your area?
I look forward to your feedback and experiences.